After setting up your Ledger Nano S, you will be able to interact with your funds through the Ledger Live app. To download the Ledger live, go to the Ledger website.
Install your apps
To open and manage a wallet, you must:
Launch the wallet application on Ledger Live,
Open the dedicated companion app on your Nano S to unlock and sync the wallet.
So for each wallet, you need to have the wallet in place on the Ledger Live, in the left tab at the bottom in accounts, as well as on the screen of your Ledger Nano S.
APPLICATIONS ON YOUR NANO S: Ledger Manager
Your Nano S is a multi-application device: so you can install and uninstall several applications, like Bitcoin, Ethereum, XRP and many others (altcoins, authentication, etc.).
These applications can be deleted, replaced, and you can add new applications using the manager present in Ledger Live, the "Manager".
PORTFOLIOS ON LEDGER LIVE
Add portfolios to Ledger Live
Cryptoactive accounts, for which the Ledger Nano S is already equipped with a wallet, can be added on the Ledger Live application. They will then appear in the list of "Accounts", at the bottom left of Ledger Live, and will be added to the value of your accounts:
Check that the application of each cryptoactive is installed on the screen of your Ledger Nano S. For example, to add a Bitcoin account on the Ledger Live, check that the Bitcoin application is already in place.
Instructions
On the left of the menu, click on the "+" to add an account.
Select the cryptoasset you want to add.
Click Next.
Connect and unlock your Nano S, open the application of the relevant cryptoactive.
Click Next. The Ledger Live will then check if the Nano S already has existing accounts, and display them.
Select the check mark of the account that appears, and choose a name for it.
Click Add account (s).
You have just added the accounts of your portfolios to Ledger Live.
On the left interface, click on the account you just added to see its details (balance, receipt address, etc.).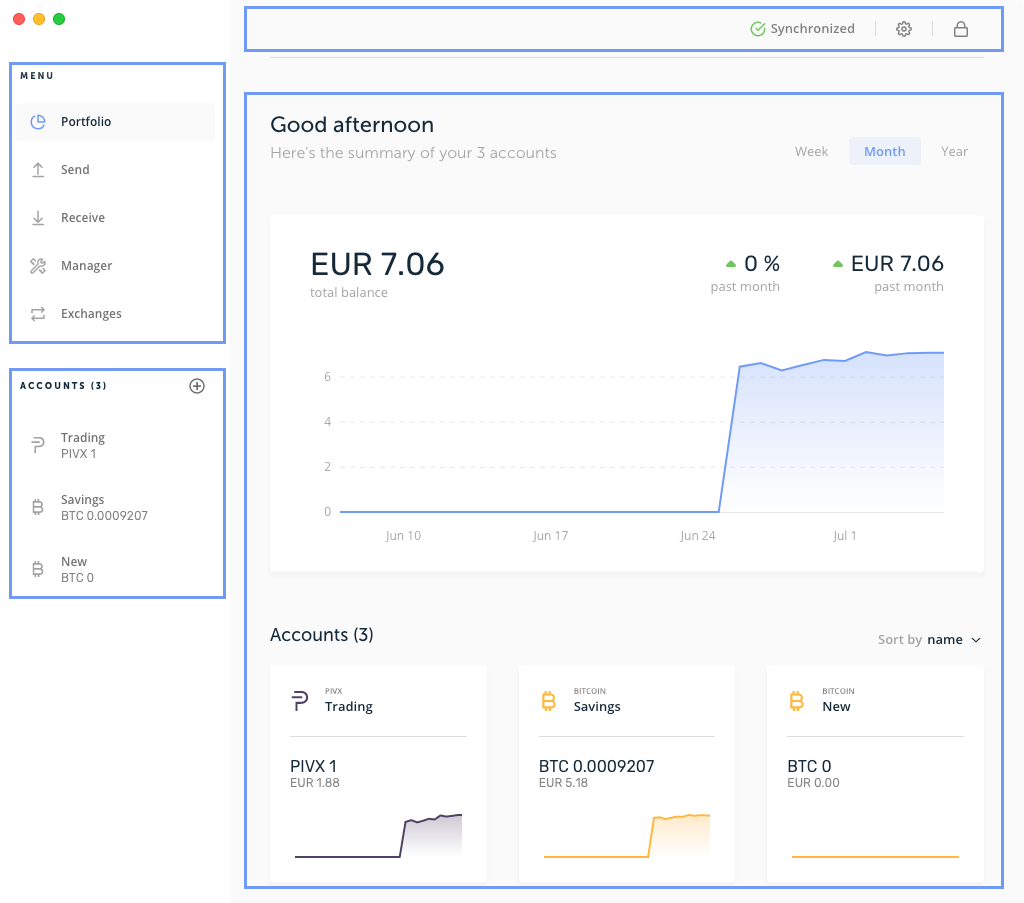 THIRD PARTY APPLICATIONS ON YOUR COMPUTER
There are also applications not provided by Ledger but by third parties, which can be used with the Nano S. Your private keys remain secure by the Ledger device while performing transactions on its built-in wallets.
MyEtherWallet
Follow the guide to install and use it: How to use MyEtherWallet with Ledger
To use this wallet, the companion app on your Nano S must have the "Browser Support" option set to YES. In order to have information on the "Browser Support" parameter, you can consult our article How to use the "Browser support".
Ethereum
Ethereum Classic
Expanded
And all ERC20 tokens such as 1ST, ADST, ADT, ADX, ANT, APT, ARC, BAT, BeerCoin, BET, BCDN, BNC, BLX, BNT, BQX, CAT, CFI, CRB, CREDO, CTL, CryptoCharbon, CVC , DAO, DDF, DENT, DGD, DGX 1.0, DICE, DRP, DNT, EDG, EMV, EOS, FAM, FUN, FYN, GELD, GNO, GNT, GUP, GTKT, HMQ, ICE, ICN, JET, JetCoins, LOK, LUN, MCAP, MCO, MGO, MDA, MIT, MKR, MLN, MNE, MRV, MSP, MTL, MYD, MYST, NET, NMR, NxC, NXX, OAX, OHNI, OMG, PAY, PRO, PLBT, PPT, PLR, PTOY, PLU, QAU, QRL, REP, REX, RLC, RLT, ROUND, SAN, SCL, SGEL, SGT, SHIT, SKIN, SKO1, SNGLS, SNM, SNT, SPARC, STRC, STORJ, STX, SWT, SNC, TaaS, TFL, TIME, TIX, TKN, TRST, Unicorn, VSL, VSM, VERI, VRS, WCT, WINGS, XAUR, XID, XLR (non-exhaustive list)