You wish to send your crypto-assets from Coinhouse to an external address?
1/ Go to your dashboard and click on the "Your Portfolio" tab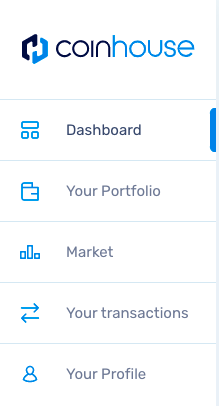 You can then click on the "withdraw" button which is on the right of the crypto-asset you want to withdraw.


2/ Finalise your transaction with the ''Withdraw'' window
A new window opens:
You can add a new wallet address if you have not yet registered one by clicking on this button:

Or you can select your wallet address if you already have registered one:

Then enter the amount you want to withdraw (be sure to enter the value with points, not commas).
If you want to send the entire amount in cryptocurrency available on your wallet, you can click on the "Withdraw the maximum" button.
To finish and confirm the operation, click on the "Continue" button.
Please note that it is necessary to wait until your transaction is validated on the Blockchain. This operation usually takes a few minutes.
You can check the status of your transaction by going to the ''Your transactions'' section.